It can be so hard to expand your manga collection when there are gazillions of great reads. But always remember, your funds can go a long way if you know when to purchase and where to buy books.
Borrowed and secondhand books do not encourage fresh sales that help print more manga since it's "already bought." In this article, we encourage fresh sales as means of fully supporting the series and creator.
Here are some tips on how you can buy (and support your favorite mangaka) while still saving money.
Go digital
We have the technology to thank for, especially for those who don't have much to spend on manga. Digital manga is always cheaper than the physical book by 10% to 90%. On rare occasions, you can even get a volume for free. Since most people already have smartphones and tablets, it's easy to take this route when collecting manga. The good news is that there are a good number of options when purchasing these digital books.
Below is the list of the common platforms where you can buy your manga from:
Don't stick to one app if you genuinely want to save money. Run a price comparison check first and buy from the app with the lowest price. Use coupons if you have any.
Is there a manga subscription service?
There are English publishers and e-reading platforms that offer an immense number of titles at affordable monthly rates. One great example is VIZ Media's Shonen Jump App. Your ₱100 can go a long way with its library of over 10,000 chapters. 
Here's a small list of other manga subscription services:
Kindle Unlimited and Comixology Unlimited by Amazon
Mangamo
Manga Plus by SHUEISHA
Crunchyroll
Additionally, J-Novel Club offers an exclusive light novel-reading system on their site.
Other Sources of Digital Manga
Humble Bundle. Kodansha Comics partners with Humble Bundle (a charity-driven digital products store) to sell multiple titles in one bundle. They offer limited-time bundles at a meager price. One of their recent deals, for example, is a $939-value bundle priced at ₱1,457.96.
Wait for sales, seasonal discounts, and deals
Sometimes, it takes patience to save money on manga. You may be itching to buy a book the moment it becomes available. If you genuinely want to save money, hold off the purchase and buy when the time is right. Shop only when a bookstore is offering the best deals.
Always be on the lookout for information from your favorite manga store. Follow their social media accounts to be updated. If they have a mailing list, sign up for it as well. Several shops will give you one manga for free when you purchase X number of books (like Tankobonbon's 6+1 Sale). If you purchase manga from physical stores, you will notice some seasonal sales too. So save up before those periods and take advantage of those deals. 
Explore loyalty programs.
It's essential to have a couple of go-to stores for your manga. First, look for a brick-and-mortar or online store that offers a rewards system to loyal customers. Tankobonbon, for example, gains you bonbons for every purchase and can be used to save on shipping fees and obtain discounts.
Purchase special editions
Omnibus Editions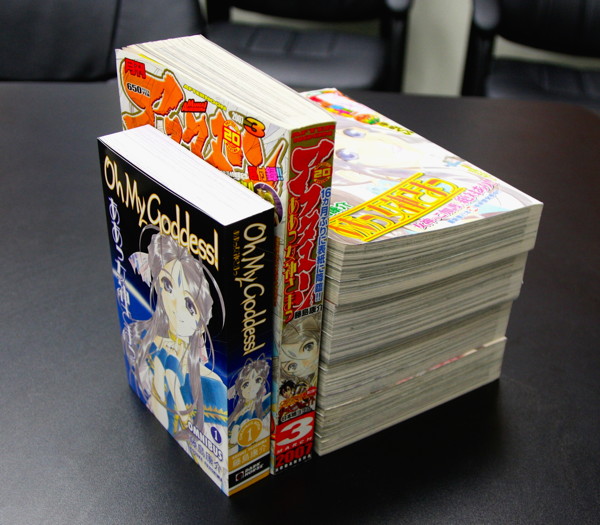 ©Dark Horse 2015
When you plan to collect long-running series like most shounen manga titles, purchasing the omnibus edition will save you a lot of money. Let's take Full Metal Alchemist by Hiromu Arakawa as an example. A single volume's price is $9.99, so if you get three books, that's $29.97. Go for an omnibus edition (a 3-in-1 version), and it'll cost you $14.99. That's almost 50% savings.
Box Sets
Dragon Ball Z ©Akira Toriyama/SHUEISHA Inc.
Purchasing premium edition box sets is another way of saving money on manga. As an added benefit, you get an artwork-adorned box and the bonuses that come along with them. Posters are a typical example.
Other Ways to Save
Sell your old manga to purchase new ones.
Sometimes, it takes letting go to acquire new ones. If you have a collection that you're willing to let go of, sell it. You can even go KonMari method if you find it hard to let one of the titles go. By putting your manga for sale, you're sharing the joy of collecting those books. At the same time, you gain funds to purchase a new set to add to your collection.

Look for coupons.
Coupons are a great way to save money on manga. Follow events (such as coupon hunts), check your favorite anime/manga YouTubers (akidearest, The Anime Man, and CDawgVA are just some content creators who gave away Book☆Walker coupon codes), and answer manga-related surveys (such as the monthly survey by Seven Seas). Sometimes, a simple Google search can do the trick.
Purchase the manga in Japanese.
The price of a Japanese manga is lower than an English manga. By purchasing books in Japanese, you hit two birds with one stone. Not only will you save money on manga, but you also give yourself access to material that compels you to learn Japanese while having fun at the same time.
Save money and buy from a convention (once all this craziness is over!)
If you're looking to splurge, go to anime, comics, and toy conventions in the Philippines. You'll find manga vendors in those events who will offer you great deals, especially if you purchase in bulk.


Sources: LiveAbout, Sekina Mayu, Featured Image (©The Japan Times 2014)